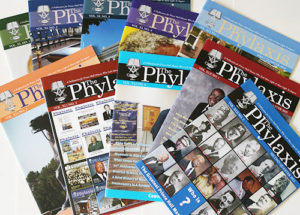 The Phylaxis magazine publishes articles that deal with Masonic history, primarily the history of Prince Hall Masonry, and it deals with current events that we believe will have historical significance. However, we often have special editions of the magazine that touch upon other diverse subjects of interest to Masons in general. If you wish to have an article or idea considered for publication in our magazine, visit Submission Guidelines and send us a query.
You may also wish to have your articles considered for publication by the
Scottish Rite Institute or the
York Rite Institute
in which case, you should contact the same.
You may also submit material for consideration for the Phylaxis Society's Medal of History. If you have written a history of your lodge, chapter, temple, or the like, please submit your work for consideration. Send a reproduced copy or an electronic copy for our review, as we will wish to keep the document on file.