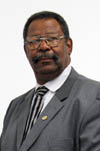 Greetings members, fellows and visitors. The Phylaxis Society invites you to enjoy the research and findings of this Society and its many writers and historians. Our continued mission is to seek more light and to impart more light regarding freemasonry.

There is much to be discovered about the history of the world's people; particularly those of African origin. There remains many truths and myths to be exposed through recovered facts. I am humbled at having been elected as the fifth President of this organization dedicated to provide members and readers with confirmed proofs of our Prince Hall and Universal Freemasonry foundation. Truth will be spoken here!
As we move forward in these pursuits, the Phylaxis Society will proudly present facts acquired by researchers and writers who search for hidden knowledge that confirms the rights of all men long sought after by our masonic progenitor, the Most Honorable Prince Hall.
Although we are basically an organization dedicated to the legacy and memory of Prince Hall, we welcome all Regular Masons, writers, researchers and historians who have proven that "we are all truly brothers," through their diligent quest for truth and light.
To the visitor; you can find through patient browsing, historic facts not readily available in traditional and historic publications. The articles, papers and documents we feature will be a treasure to those who desire to learn historic truths.
Alex Smith, FPSH
President
The Phylaxis Society